I am thrilled to officially announce today the next Base14 animated film: Duck ♥ Teslacoil. This new film (pronounced "Duck Heart Teslacoil") has actually been in the works since April of this year, and has reached a proof-of-concept stage worthy of publication.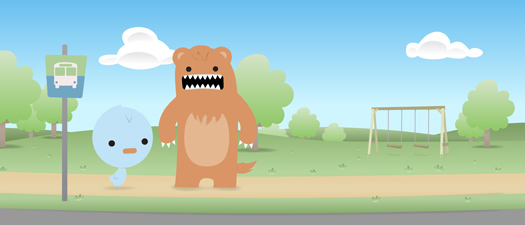 Duck ♥ Teslacoil is a return to comedy for Base14, pulling together all the strengths of the company for what should be the highest-quality piece we've ever produced. DHT enjoyed an extensive pre-production phase that solidified the plot and sent the visual style through numerous design revisions. The final look of the film is meant to replicate paper cutout animation photographed with a rostrum camera setup.
Like our previous film, Ara, DHT is being animated in Adobe Flash and composited in Adobe After Effects. Unlike Ara, DHT has been designed to be the perfect movie to animate in Flash, because the characters are made up of flat, solid-colored shapes. Still, the use of motion tweening in Flash produces a pseudo-3D look that adds more life to the characters (and would have been more difficult using traditional methods). One of the goals of this project is to demonstrate the potential of digital 2D workflows to instigate new styles of animation.
Well, enough of the technical talk, let's get to the goodies! To kick off our official announcement today, I've created an official DHT teaser poster, as well as official DHT wallpapers to adorn your computer background. And did somebody say teaser trailer? Let's just say Christmas might come a wee bit early this year.
Duck ♥ Teslacoil Poster
Teaser Poster: 11×17
Duck ♥ Teslacoil Wallpaper
Widescreen: 1920×1200 1680×1050 1440×900 1280×800
Fullscreen: 1280×1024 1024×768
Other: iPhone(320×480)