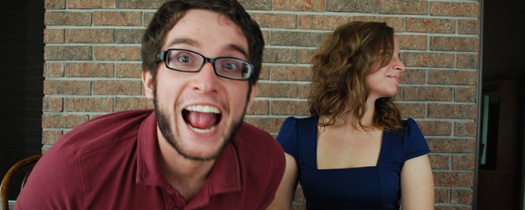 Time for a Base14 news roundup! We're proud to finally announce that after two years in the film festival circuit, "The Girl and the Fox" has been picked up for television distribution in the United States! What that means is that our distributor will be able to grant television stations, video-on-demand and streaming services the right to air TGTF on their networks. There was once a time when this meant EVERYTHING to a indie film, before the Internet revolution. Today we have many ways of getting our film seen, but the recognition and support of a professional distributor is something we take with great pride. We'll pass along airing information about the film as we come upon it in the future.
In other news, the company has been featured in two online articles recently that we wanted to highlight. Just this week, Alysha and I were featured on the Purdue Innovation and Commercialization Center website. It's a site dedicated to Purdue University staff and alumni that have found success as entrepreneurs, inventors or artists. The profile chronicles the origins of Base14 and how Purdue fueled the success of the company for both of us, albeit in very different ways.
Secondly we wanted to highlight "The Girl and the Fox" being featured on studentanimations.com. Alongside the embedded film, it's got a nice summary of the stats of the production. Here's the article.
Lastly, as we celebrate the two-year anniversary of our world premiere for "The Girl and the Fox" this month, we want to mention that TGTF is still getting into festivals around the world. Just this month it screened at the Ashland Film Festival in Oregon, the Reel 2 Real Film Festival in Vancouver, and has upcoming screenings at the Phoenix Comicon Film Festival and all the way over in the Czech Republic. We're amazed by the enduring love people have shown for the film and the continued requests for it to screen at festivals of all types.