December 6th, 2011
Yesterday, the International Animated Film Society, ASIFA-Hollywood announced the nominees for the 39th Annual Annie Awards, the highest honor in the animation industry. Included on that list? "The Girl and the Fox." Right beside all the best studios like Pixar, Walt Disney Animation, Warner Bros. and the National Film Board, Base14 stood proudly as a candidate for Best Short Subject. As a growing animation studio, this is undoubtedly the greatest honor we have ever received.
The nomination alone is a stunning testament to our entire crew of talented artists, animators, musicians, sound engineers and producers. As director, I want to thank each and every one of them for making this vision a reality. I'll be in LA for the Award Ceremony on Feb. 4th, and hopefully we can get a few of our other key crew members to attend as well.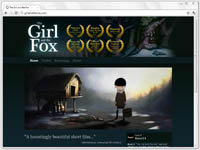 Finally, as a necessity to the film gaining a new place in the spotlight, I've launched the official website for "The Girl and the Fox". For now it features a modest view of the tour schedule and trailer, but will grow as time goes on. We still have about a year's worth of festivals on our tour schedule.
Here's to many more exciting days ahead of "The Girl and the Fox"!