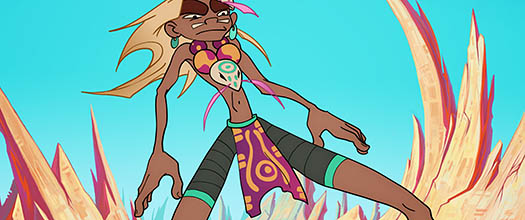 So usually when posts here on Base14 start to run a bit dry it's because we've got some huge film project going on that's been sapping all our time. And the past two months have been no exception. On top of continued festival runs for "The Girl and the Fox", Base14 has been completing production on our fifth animated short film, titled "Rain Dance."
"Rain Dance" is the first film where we've been able to overlap production schedules. The film has been in development since Fall of last year, when "The Girl and the Fox" was still in corrections and post-production. We were able to do this by bringing on a second director, the very talented and honorable Nate Swinehart. "Rain Dance" was Nate's original concept, and Tyler came on as Producer, agreeing to house the film under the umbrella of the Base14 Studio. Much of the elite squad on "Rain Dance" are veterans of the "Girl and the Fox" crew, including Nate, so this was a natural progression. Base14 will assist with production, promotion and distribution. So it's all win-win.
The best part of this announcement is you barely have to wait to see this fine creation! "Rain Dance" will be shown in its first public screening this Saturday, at the ever-popular SCAD animation showcase SCADanimate!  This is set to be a test screening, where the producers will be analyzing audience response and making recommendations for further post-production work based on reactions.
From here, "Rain Dance" still has a ways to go in production. We want to add a whole pass of tones and shadows to the film, as well as finish up sound design and music composition. In the end, it's going to be a grand product. It should be completely finished and hitting the festival circuit some time next year, hot on the heels of "The Girl and the Fox." But if you don't want to wait that long, don't forget to come on out this Saturday:
"Rain Dance" Sneak Peek
As part of the SCADanimate Animation Showcase
Saturday, September 24 – 7:30 pm – Lucas Theatre
Savannah, GA
We'll see you there.