April 4th, 2012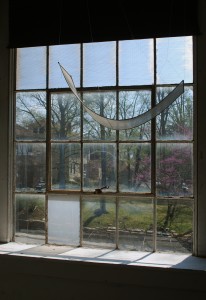 Now that I've been working solely as a studio artist for a bit of time I have begun to notice a pattern. My pieces are beginning to pile up around me in the studio. Already I feel as if I'm gathering my treasures like some ancient Egyptian ruler, preparing my tomb for future archeologists to discover and pick over long after my time is passed.
But this to me is a bizarre and depressing way to think about my art. The solution I have reached is to explore fragility; to essentially give my work a life cycle. This most recent piece made of silk, spruce and cotton thread is patiently waiting for when I release it out into the world where it will flourish in the most vivid activity of life while it is slowly battered and dematerialized into nothingness.
Ah, the sweetness of letting go.