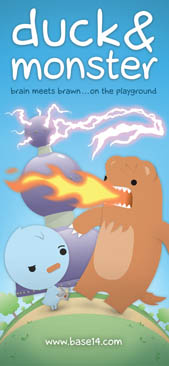 After the 2009 success of "Duck Heart Teslacoil," I've been yearning for an opportunity to do more with the characters in the form of a web series or DVD release. Well, in the spirit of that desire, Base14 has drafted a concept for a television show based on the "Duck Heart Teslacoil" universe called "Duck & Monster." Here's the pitch:
"Duck & Monster" TV Show Pitch:
Duck and Monster are unlikely best friends. Duck is is the quiet, smart type with a knack for gadgets. Monster is the youngest of twelve siblings, loud and easily amused. That, and he can breathe fire. Together, the pair embarks on adventures on and off the local playground. Duck uses his wit for building dangerous contraptions and Monster uses his brute strength. Whether they are inventing new rules for baseball, exploring underground caverns or traveling back in time, Duck and Monster use their friendship as a means to overcome any obstacle. While this is not necessarily an "educational show," it will frequently explore subjects and concepts that are scholarly, to entice viewers to learn more about those topics on their own.
With this idea, we generated a pitch poster and submitted it to the Animation Magazine 2011 Pitch Party, an opportunity for artists to draw attention to their original series concepts. The pitch party is now open for voting, and we need your help to get us to the next stage! If "Duck and Monster" wins, we'll get a chance to pitch the actual idea to an animation industry executive. Not too shabby! So I implore you, loyal Base14 fans, to follow the link below and VOTE! Every vote helps us get closer to the renewed adventures of our beloved Duck and Monster.
Special thanks to the SCAD Animation Department for sponsoring our entry in the contest.