Today I am very proud to announce the next Base14 animated film: The Girl and the Fox. In production since September 2009, TGTF has reached the long-awaited proof-of-concept stage to make it worthy of publication.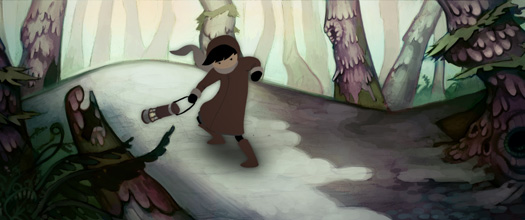 The Girl and the Fox is a new foray into dramatic animated storytelling for Base14. Leaps and bounds above our first attempt at animated drama, Ara, this new film channels all the professional filmmaking and storytelling techniques I have learned since starting graduate school here at The Savannah College of Art and Design. TGTF also marks our return to hand-drawn digital animation, which thanks to the talent and resources here at SCAD, will be far superior to anything to come out of Base14 previously. The production staff has grown to over 40 members, including a dozen character animators, half a dozen layout artists, and another dozen or so ink & paint artists. It's safe to say about 80% of my time is currently spent managing and directing such a large crew, but it's possibly the most enjoyable and rewarding endeavor of my life. I'm honored to work with such a talented and dedicated team.
To see what they've been cooking up, though, you'll have to wait a bit longer. Animation is almost completely done, and we're now entering the ink & paint / composting stage. Later this month we'll be launching into overtime with another experimental Base14 Studio setup, this time here in Savannah, to tie up any loose ends in production. By late March, we'll move into post-production, finalizing editing and sound design. And now that things are really getting exciting, every noteworthy event will be chronicled right here on Base14. So stay vigilant, loyal base14 readers! Much more is on the way.