As stated in a previous post, I am also serving as a blogger for the Voices of the Fest website for the 2010 Savannah Film Festival. We're in the third day of the festival now and so far it's been a huge delight talking to filmmakers, sending out tweets about events and writing articles about the day's highlights. This was essentially my entire plan for this year's festival, to act as a media representative who is both a student and a featured filmmaker alumnus. So imagine my surprise yesterday when I learned I would have to step up and play filmmaker again this year, at least for one day.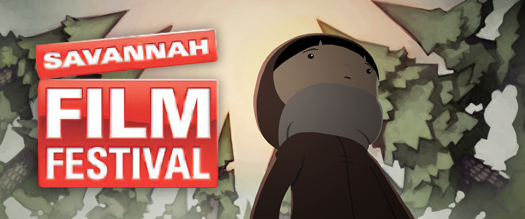 You have all followed the long development of "The Girl and the Fox" over the past year as we've worked tirelessly to get it ready for a festival run. And, to be honest, it's still not ready. The SCADanimate screening was immensely helpful in showing us what the strengths and weaknesses were of the film in its current form, and I'm taking full advantage of that knowledge by working out a list of corrections and adjustments to the visuals, music and sound of the film before we start spending good money sending it to film festivals. This included the Savannah Film Festival! The plan was to hold on until the call for 2011 entries comes in Spring, and then TGTF can be a competition film next year. But The festival also has a block of non-competition films, strictly work of SCAD students, and apparently "The Girl and the Fox" has wound up in there this year.
So with that, I'd like to announce the second public screening of "The Girl and the Fox," hopefully this time the Fall 2010 cut, with revised soundtrack and some visual adjustments. It will be happening as follows:
Savannah Film Fest 2010 SCAD Student Showcase (Featuring "The Girl and the Fox")
– Tuesday, Nov 2nd at 11:30am – Lucas Theatre
I am told there will be an opportunity to have question and answer after the screening, so certainly if you're in Savannah and want to see me say a few words about the film that consumed the last 14 months of my life, please stop on by! If you're farther away, though, hold on to that ticket money. "The Girl and the Fox" will be coming to a festival near you eventually!